Friends, I'm about to blow your mind. As much as I positively love gardening in my containers every year, there are a few flower pots that I've had it with. Some of my container planters just hate whatever I put in there! Maybe it's the lack of water that I can get them, or the full sun or the black planters but flowers continually shrivel and die. I'm tired of redoing these planters all summer long! I am admitting to cheating and planting fake flowers outside in certain places. Yes, outdoor artificial landscaping is my new jam. No, I don't use fade-resistant flowers everywhere (I truly do love my garden and real flowers) but using UV silk flowers in certain places is making my life easier. I challenge you to notice they are even artificial flowers!
Tips to using Outdoor Artificial Landscaping
Use sparingly and carefully. Just like mixing inexpensive home decor with higher end pieces, or an expensive sweater with super cheap shoes, the whole look needs to blend seamlessly. So no, I don't use silk flowers outside exclusively. Pick and choose where to place them so nobody will be able to tell the difference between real and fake!
Mix the flowers in a very organic style. This is not the time for perfectly arranged floral arrangements. You want the plants to look natural. Mix varieties and intertwine the branches so they look like they've grown into each other Also, allow them to trail naturally. These silk flowers are an easy diy as long as you make it look like the earth grew them and abandon perfection! I started with the soil that was in there from last year. In this case, roots from the previous year work in your favor. Old soil is thick and will grip the UV plants better so they stay put.
I stuck in each plastic plant in the symmetrical way I would have planted real flowers, however I was careful to put them in at varying heights because this would help create the illusion that certain plants had grown up, and some wider just like real ones would have. Then I bended the branches in a variety of directions.
Lastly, I took my hands and tousled each bunch to mess them up. Just like you would do to your hair if you were trying to fluff it!
Type of Silk Flowers to Buy
There are special artificial flowers that are meant for outside. They are fade resistant. If you can, buy UV resistant to help them look better throughout the season. The boxwood and filler plants are plastic, which allow them to better handle Mother Nature.
My Favorite Place to shop UV proof Beauties online
All of these UV flowers get excellent reviews. The boxwood isn't UV but tucked under a porch it will do so well. I have several that are holding up beautifully! I also love both the indoor artificial flowers and the outdoor plants sold by Afloral!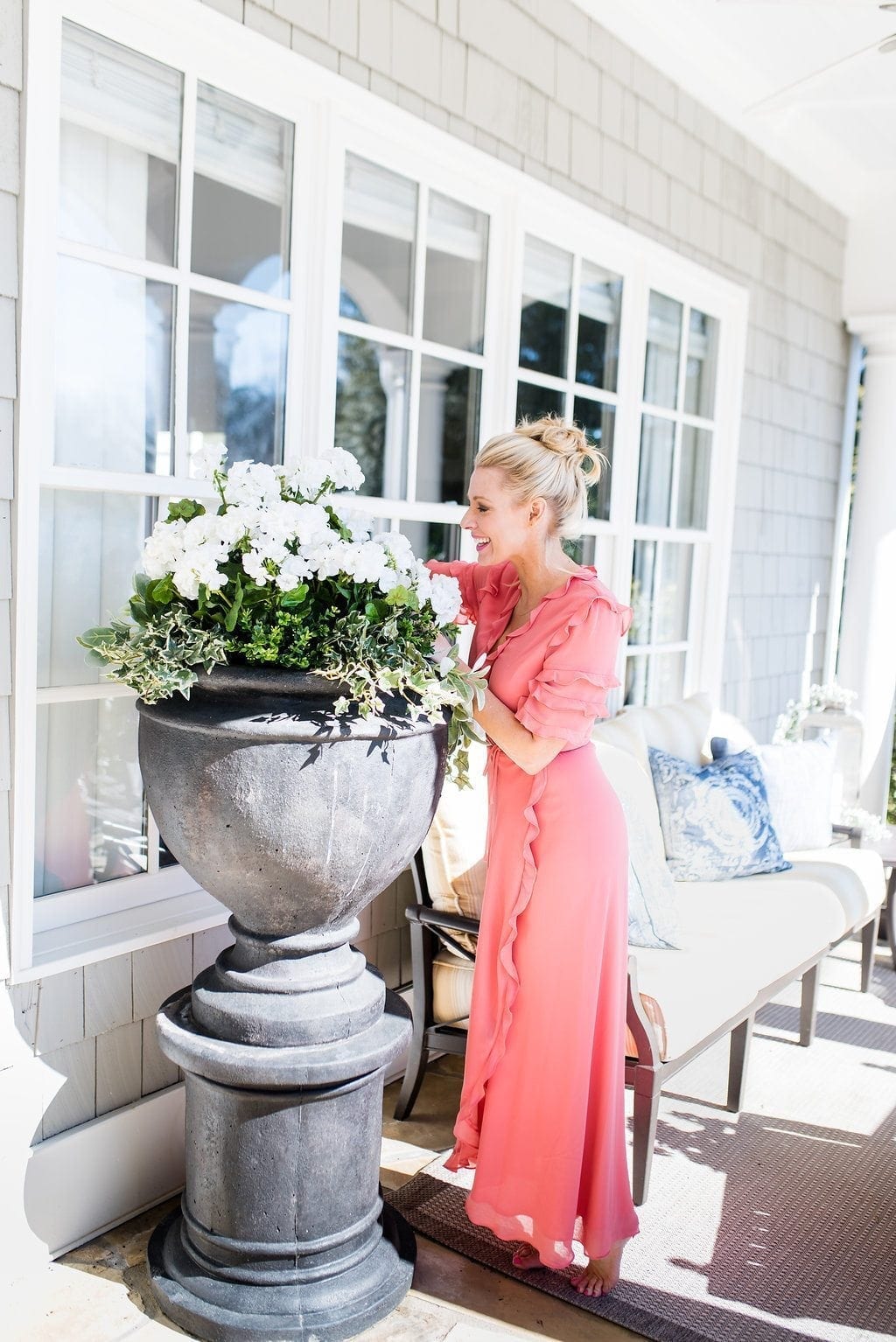 Materials I Used
18″ boxwood bush – 3 for each spa container.
Water resistant silk azalea – at least 3 for a small container. More for larger size pots.
Trailing petunias.
Artificial Geranium bushes in white – I used about 7 in my balcony container.
Plastic mini Boxwood pick – I adore these. I used 3 in each pot by the spa but wish I had bought more for the other containers.
Plastic rosemary greenery. A great filler. Get a few for each pot.
UV Protected Plastic Spathiphyllum Plant in Green – 33″, I used these tall plants in the fireplace containers.
Artificial Ivy Leaf Hanging Bush in Variegated Green – 22″ long. These are much shorter than I thought they would be so plan accordingly.