In 2019, after living in our home for nearly nine years, we decided to gut and redo! For those of you who are longtime Instagram readers, you may have seen my Instastories where I shared behind-the-scenes of my home remodel. I'm excited to finally share our kitchen remodel before and after with you now!
We positively love our home. It's where we hope to live forever. The house has great bones, sits on the lot that backs up to a national forest (you guys know I love trees & landscaping!), we have great neighbors and a fantastic school district.
The house is almost 20 years old and really needed some love. Besides, what is nicer than making a home you love even better?! I'm a big advocate for living in a space before you redo it. To me, function should always take precedence over form. Making something new and pretty is easy. Making it work for you is the hard part!
A big thank you to House Beautiful for featuring our kitchen remodel before and after! Wow, what an honor! Thrilled beyond words!
I knew how I wanted this home to operate. I knew where I wanted the pots and pans, where I wanted to drop the mail, where I wanted the kids to sit when they did homework… I put years of effort into this thought process before pulling the trigger. My husband gave me the gift of being able to remodel to truly make our home ours. Thank you for reading along… welcome to our new kitchen!
Kitchen Remodel Before and After Photos
Drawing before Renovation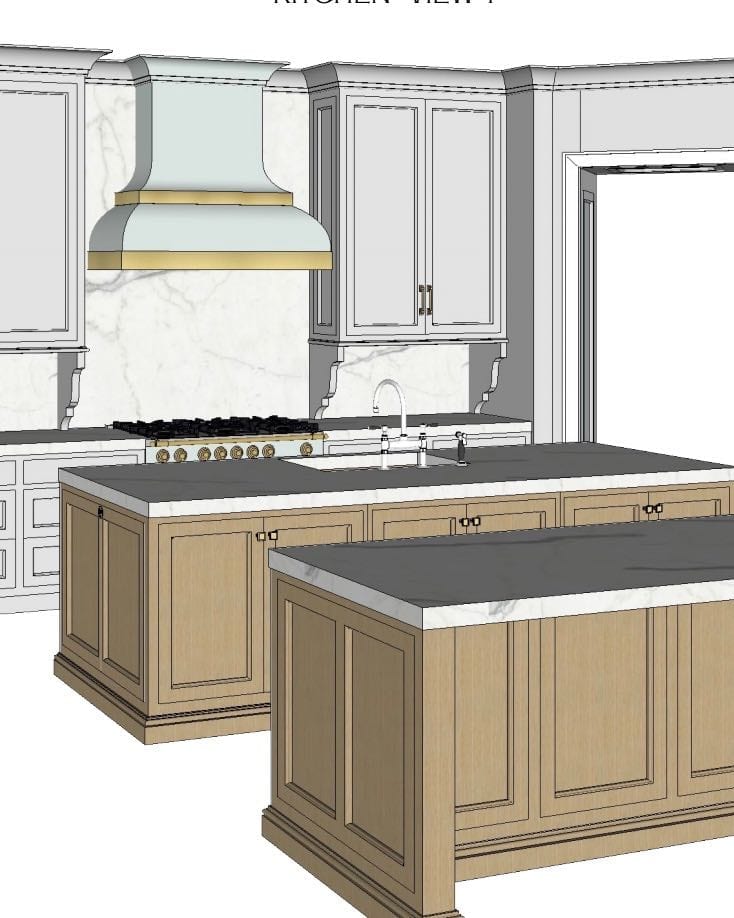 Kitchen Design & Functionality Goal
Goal for remodel- three adjectives: warmth, elegance and function.
Years ago, I fell in love with a La Cornufe range in a blue color. I asked my husband if he would be on board with it for when we decided to remodel and he was all for it! So that, in my mind, would be what the renovation centered around – that gorgeous blue gray/gold range.
As a busy Mom to three, clutter makes my head explode! But clutter is life with three little kids and a busy house! I wanted a spot for everything and a very clean, minimally decorated home. I do not like lots of accessories or patterns. I like my eye to lay on very soft and clean spaces. It helps me function better!
I wanted the kitchen to feel "ohh la la" in some spaces of the home, but I wanted everyone within the house to feel like they were in a home, not a show home. She nailed it.
What I'm most pleased with
The kitchen is gigantic. It's larger than the pictures of kitchen remodel before and after can show! Instead of filling the space with tons of accessories, or tile patterns and colors, we achieved my minimalist glam vibe. The giant pendants add a beautiful glow and a touch of elegance without being over the top.
That hood! That range! Be still my heart.
I was adamant we not get an all-white kitchen. It needed to have pops of blue, but still stay elegant. We get that white kitchen feel but with a gorgeous warmth. We chose two different wood tones for the cabinetry. The wood tones in the islands add a beautiful mix against the Taj Mahal quartzite.
The white cabinetry and white paint create a great bright canvas. Since there is no natural light in the kitchen, the light gets to bounce around and feel much brighter and happier. The full splash Taj Mahal keeps the eye on a clean and consistent palette but interrupts the "all-white" look.
The second island is reserved for seating on both sides only. This has become one of the best decisions in the house. We sit here as a family at night, our kids hang out with their friends over snacks here, and I've entertained friends with wine and charcuterie platters! Having the TV may seem not as "picture perfect" but it lets you hang out in the kitchen without being in the kitchen!
Shop the Kitchen
Scroll to shop! Everything is sourced exactly as I used in my kitchen. The only exception are the counter stools.
These are the exact stools, but I recovered them with my own fabric. The cushions easily come off and I paid $25 in labor to have them recovered. Or you could easily use a nail gun!
They are great stools and we sit at ours daily — love the foot rest and gold finish!
Kitchen Remodel Details
The backsplash is a full splash of the same quartzite. Because I like the look of clean my eye needs simplicity. I didn't want to change the backsplash to a different tile or pattern so it carries up the wall.
A full splash is much harder to do than it looks! They had to come out measure. Then hang cabinets. Then re-measure. Then take down cabinets. Then install, then rebut up cabinets. It was quite the operation!
Brass Plumbing
Our faucet is a touchless Brizo and oh holy cow is it awesome. I had reservations the touches wouldn't work well but it funcions like a dream. No more gooey hands on the faucet. Much more hygienic and a gorgeous fixture!
Pot fillers are apparently going out of style but we used to use ours and still do. We bought the Brizo pot filler and I adore it!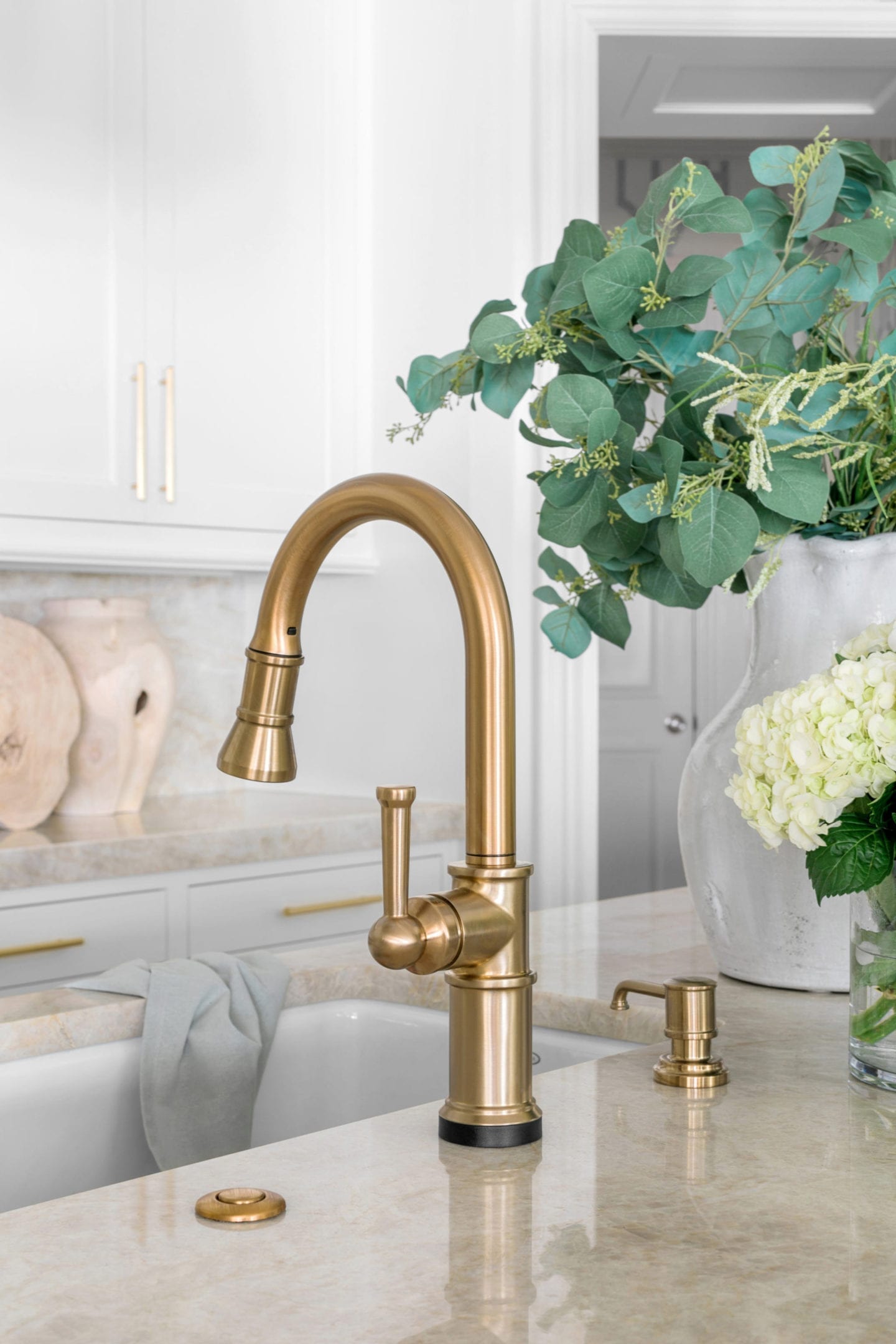 Shop the Gold Kitchen Plumbing & Range
Island Details
Islands: Made by Kingdom Woodworks in White Sewn Oak. I adore them and they warm up the white!
This was a game-time change. Originally we were going to have the seats at the main island but changed our minds. Two reasons: one of the space is gigantic. It would have left a cavernous opening had we not added it. Two, we have a busy family. And I like people in the kitchen but I don't want them in my way, ha! This way I have a full working island, and they have a full seating space. It makes setting the table easy (we eat here almost every night!) they can do their homework, we can entertain with drinks and snacks and there are eight counter stools.
Counter top is Taj Majal Quartzite. It has a mitered edge to give it gravitas!
Furniture & Blue Finds
Bar Stools with Back feature Sunbrella fabric custom made by Hickory White
Backless counter stools are from West Elm bar stools. The top comes up easily so recovered them in Romo fabric. This is an affordable way to make something custom!
The Amazing Crew
Cabinets: Kingdom Woodworks
Hardware: Vesta Hardware
Thanks for reading my kitchen remodel before and after. Be sure to check out this section for more room before & afters, and get my newsletter as I share the rest of the remodel details!