Introducing Our Mudroom Closet!
Whether you're building or remodeling, my advice is to focus on the question "How do you live in your home?"
As you pin things on Pinterest, focus on the functionality of the spaces you gravitate towards. Do you love the built-ins? Do you love the layout? Do you love the versatility of the kitchen in the image? What is it that's pulling you into the photo beyond the design?
Figuring out how you want a space to function should take precedent over the aesthetics. You can figure out how it will look later. That's the easy and fun part! Let me walk you through our new space that features our mudroom closet cubbies with doors!
I love this mudroom addition, it's provided so much mudroom shoe storage!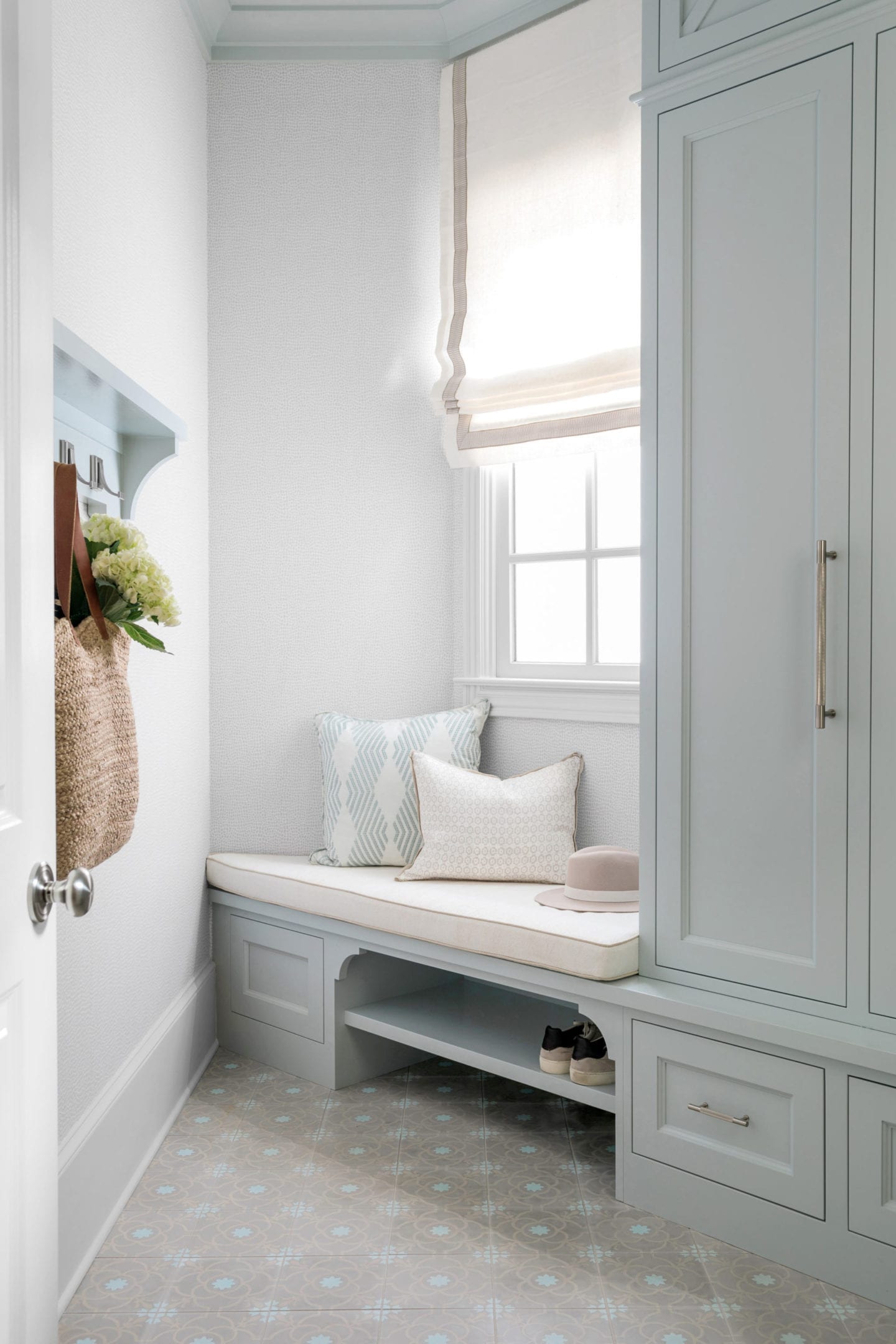 I Chose Tile for My Mudroom Flooring
A Mudroom is just that, a room where there could be mud.
When choosing my mudroom flooring, I wanted something that I could easily keep clean while my 3 kids and 2 dogs track who knows what through that room. Tile seemed like a good choice for the room especially a mudroom tile with a brown tint to help hide dirt marks I may miss when I clean.
Figure Out the Functionality of Your Mudroom Closet
I spent years thinking through how I lived in my home. What did I like? What wasn't working? Was a room worth keeping just because it was pretty? Was it worth preserving because that's how the house was built?
Grab a notebook to make notes to yourself. Sample questions to ask yourself:
Where in my house do I want to keep my laptop, the mail, the kids' paperwork?
When I walk in from the garage, where do I want to drop my shoes? Is it possible to create a mudroom shoe storage system?
What would you hide behind closed doors if you could?
Do you wish a certain window had more privacy? Or maybe allows in more light?
A Simple but Effective Way To Use My Mudroom Shoe Storage
A Home Office becomes a Locker Room
These are our new mudroom storage cabinets which I like to call our "locker space" that I worked with Calico on. It used to be a small office. As pretty as it was, I never used it in nearly nine years. It was located in an odd place in the house and it just never functioned as I had hoped. So why keep what didn't work? We moved my desk into the new scullery, and transformed this space into a locker area!
The angles are wonky, so they worked just fine for an area to store backpacks, purses and put on shoes. It was a much better use of the space!
My Thought Process
I worked on the functionality first. My thought process:
Use closed cubby doors that closet. I did not trust my kids to keep the space clean, so mudroom cubbies with doors were a must! Close and hide that stuff!
Create a shelf for dropping keys, with hooks for purses and bags.
Find somewhere for the kids to sit and put their shoes on.
Replace the plantation shutters and somehow add natural light into the room but have privacy.
Clean & Classic Decor Ideas
Mudroom Cabinets with Doors Details
We had three very tall mudroom lockers with doors made—each with an adjustable mudroom shelf to hold baseball equipment, hats, gloves, and sunglasses.
Above the mudroom lockers with doors are touch-latch doors that hold out-of-season equipment. Below the lockers are pull-out drawers for dirty shoes (cleats full of clay can stay dirty!).
Design Details
Once we had the functionality nailed down, Calico was able to come in and fully execute a flawless design. Calico does a beautiful job of helping you through the design process start to finish. They are an incredible design resource.
For the window, Calico created a beautiful Roman shade. It's so soft and lovely and allows diffused light into the space. It creates privacy while still letting in that natural light glow. The trim adds a custom touch. We brought the Roman shade all the way up to the crown molding for impact. I love draperies brought to the crown– it adds height to the room!)
We used the angle of the room to create a bench seat for the kids to put their shoes on and off. Calico has a great line of indoor/outdoor performance fabrics, so we used a Crypton fabric to make the white cushion extremely durable for real-life (read: clay!).
The throw pillows were added are because Mama loves her pillows and they just softened and warmed the space!
Calico also has a great library of wallcoverings. I recently used their wallpaper in our guest room and it's fabulous. In the locker room, we used a small croc-patterned gray paper. It reads neutral with a hint of movement to give the room an added oomph beyond what paint can do.
If you're in need of design help, Calico does a fabulous job of working with you to create your vision start to finish. They can take measurements; their in-house designers can help you pick just the right custom look and Calico can fabricate and install it. One stop shopping. I've used them for many places in my home including our guest bedroom, daughter's bedroom and wallpaper in our mudroom and guest bathroom!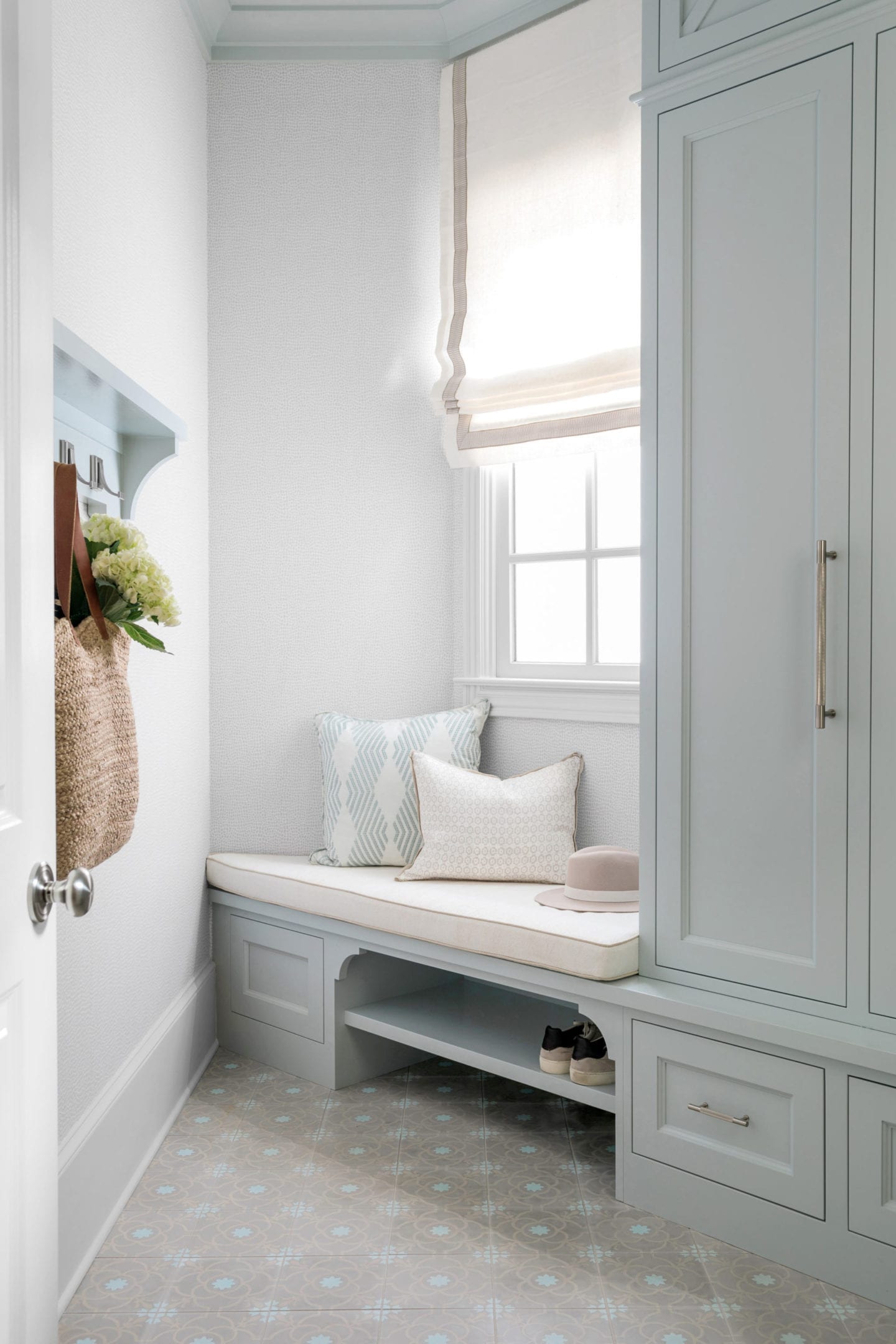 Calico Sources
Wallpaper: 30020W Jaclyn Smith-Heather 04
Bench Cushion Main fabric: Crypton Home Performance Fabric Jumper CR/Powder;  Welt: Michelle OD/Linen
Flat Roman Shade: Antique Snow-101. Trim is Pillar in Flax.
Pillows: Juliana (FC)/Mist with flat bias-welt and flange.
16" x 20" Pillow in Michelle OD/Linen and Paloma/Pewter.
Find a Calico store near you. For more inspiration on Calico's work read this blog post!