This year I'm decorating a few different Christmas trees. I'll move them to new places throughout my home eventually. But for now I'm photographing them in same room for visual effect of one tree styled two ways (read this post to see a side by side comparison!)
For this pink and gold Christmas tree I used a few different products. All faux floral is from AFloral.com. Oranaments and ribbon are from Frontgate Christmas collections. The 7.5″ flocked Christmas tree is from King of Christmas. Tree skirt is from Homegoods last year.
Similar Faux Flowers Used


Ornament & Picks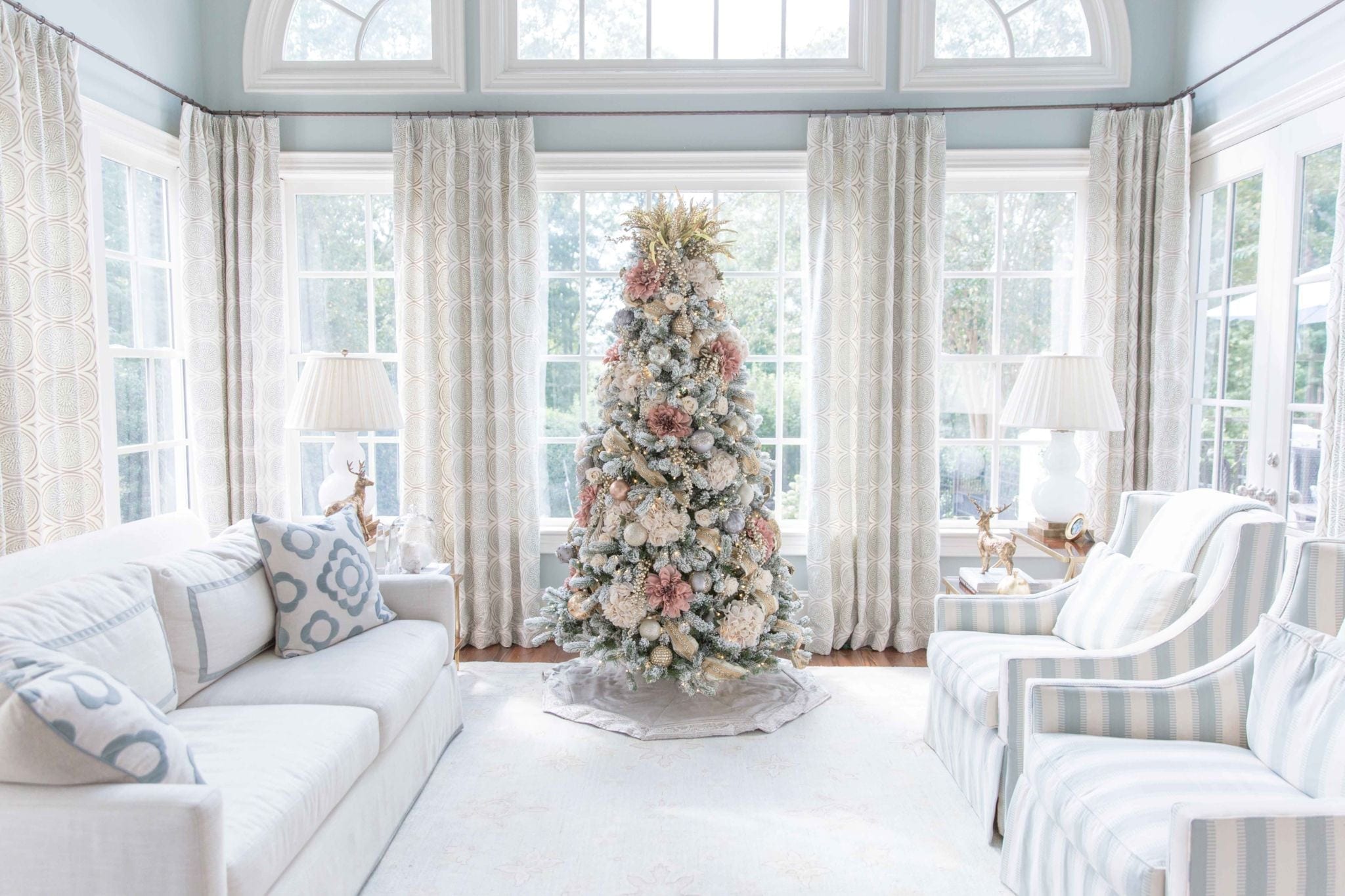 Ribbon Accents

tips to decorating a pink and gold tree
Start with the largest flowers first. Place in a triangle formation (example: hydrangea as the point, then the two hydrangea points at the bottom.) Repeat with other flowers until visually everything looks symmetrical (but not too symmetrical – it's still nice to have an effortless look!)
Add roses to fill in areas that need little pops of color or interest. I prefer to use items in groups of one or three. I think odd numbers work best.
Fill in areas with picks. Picks rock my world and I have so many varieties! These are pretty picks from Homegoods that have a nice long flowing look. I placed them in areas that helped accentuate the flowers while also filling in any holes of the tree.
Add some ornaments. The Frontgate ornament collection comes with some of the most beautiful colors and finishes I've ever seen. Their ornaments are pricey but an investment you'll use year after year (more on this in a coming post.) This particular Frontgate ornament Gilded Elegance collection had a few different color variations. I pulled out the gray toned ornaments because I thought they looked pretty against the ivory and pink! 
Finish with ribbon. While I typically start with ribbon, in this case I wanted the florals to be the standout, so I began with the flowers. I added the ribbon sparingly to add some glitz and pizazz without overdoing it so that the flowers could shine!
shop the pink tree!

Be sure to get my newsletter and please"pin" an image from this post to Pinterest!
Thanks, as always, for reading! xo, kelly