If you're looking for a cool deck for pools – ideas and tips, you've come to the right place!
We have the concrete pool deck at our home, so my opinion is coming from ten years of use. The other pool deck is from the community pool at my in-law's beach home.
We've been going to that pool for fifteen + years so my advice is based on using it, but not living and maintaining it.
I did do research based on my assumptions and it's pretty spot on.
Shop Outdoor Pool Deck Furniture

Finding a Cool Deck for Pools that Stands Out
Need some pool tile ideas?
Whether you're about to build a new pool or remodel your existing pool area, you'll want to be sure you're making the surrounding area both safe, clean, have easy maintenance and show off your new home addition!
Creating a cool deck for pools is just as important to make sure your new investment lasts and looks great. check out these two options.
One features a concrete pool deck, the other has a brick pool deck. Both have a blue pool tile to give you two different pool design ideas!
What I Wish I Had Considered When Getting My Pool Deck
Here's my very honest opinion – I want to change my pool deck. I don't care for the concrete pool deck. I find it slippery and messy.
Yes, it's cost-effective, yes it absorbs water, yes it's fairly maintenance free, but I don't care for it.
The way the concrete is poured leaves crevices that gather water – which then attack mosquitos and dirt. So when the water finally dries the dirt is sick in the crevices.
These pictures show the ground freshly swept – what a pain in the neck, though! To do my pool deck all over again I'd consider pavers or brick versus this concrete pool deck look.
That's just my straight-up honest opinion!
The Ups and Downs of a Concrete Pool Deck
Pro's
Affordable.
Durable – lasts a long time!
Water runs off fairly easily – except for where the concrete gathers and divets
Con's
Can be very messy! When it rains, dirt gathers in the crevices both attracting mosquitos in the sitting gathered rainwater and collecting dirt that shows when it dries.
Not cool on your feet – very warm!
Slippery when wet!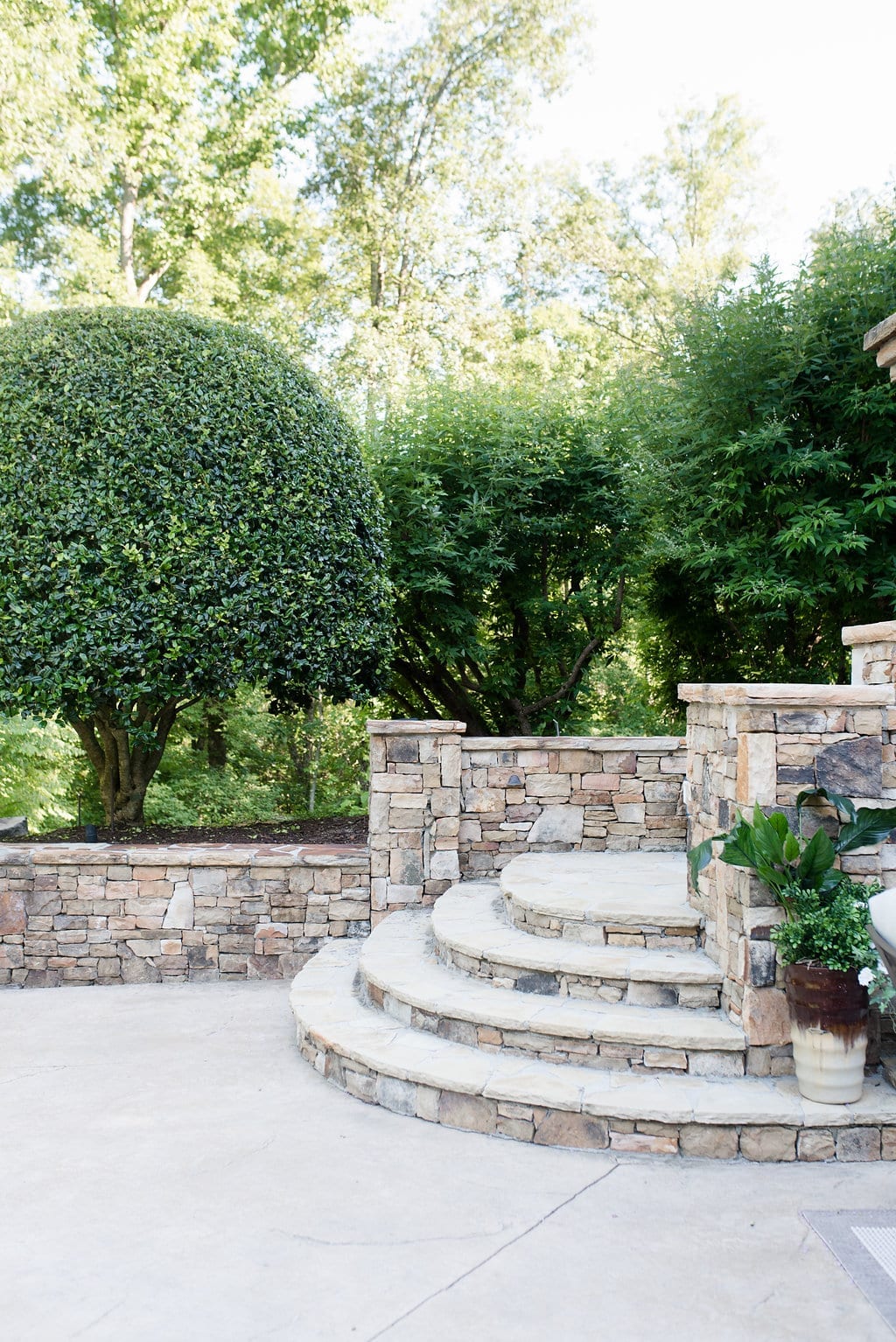 What to Consider in a Brick Pool Deck
I haven't been in charge of maintaining a brick pool deck like the concrete one at my own home, so I can't attest to that.
But I do know that this deck hasn't needed to be replaced in 15 years and still looks beautiful. It seems to wash and wear well, and looks great after years of community use!
It has a really elevated look.

Pro's
More High-End Look
Easy to clean and maintain.
Can be cooler on your feet than concrete depending on the color you choose/
Many color options available.
Con's
More expensive than poured concrete.
Can be scratchy.
Not as water-absorbent.