Silk flowers are some of my most favorite thing to buy. As a major flower lover, I can't always get them, so I love to surround myself with really well-made silk flowers. When I purchase silk flowers, I look for either real-touch or silk. Those are made better and are much more realistic. By buying a nicer quality I can use them year-round in various arrangements. One year I decided to try my hand at using silk Christmas tree flowers to decorate our Christmas tree.
I decorated both a pink and ivory Christmas tree look and a traditional red and green Christmas tree look. both looks had no ornaments or ribbon. I used only faux Christmas tree flowers and styled them both on THIS FLOCKED TREE.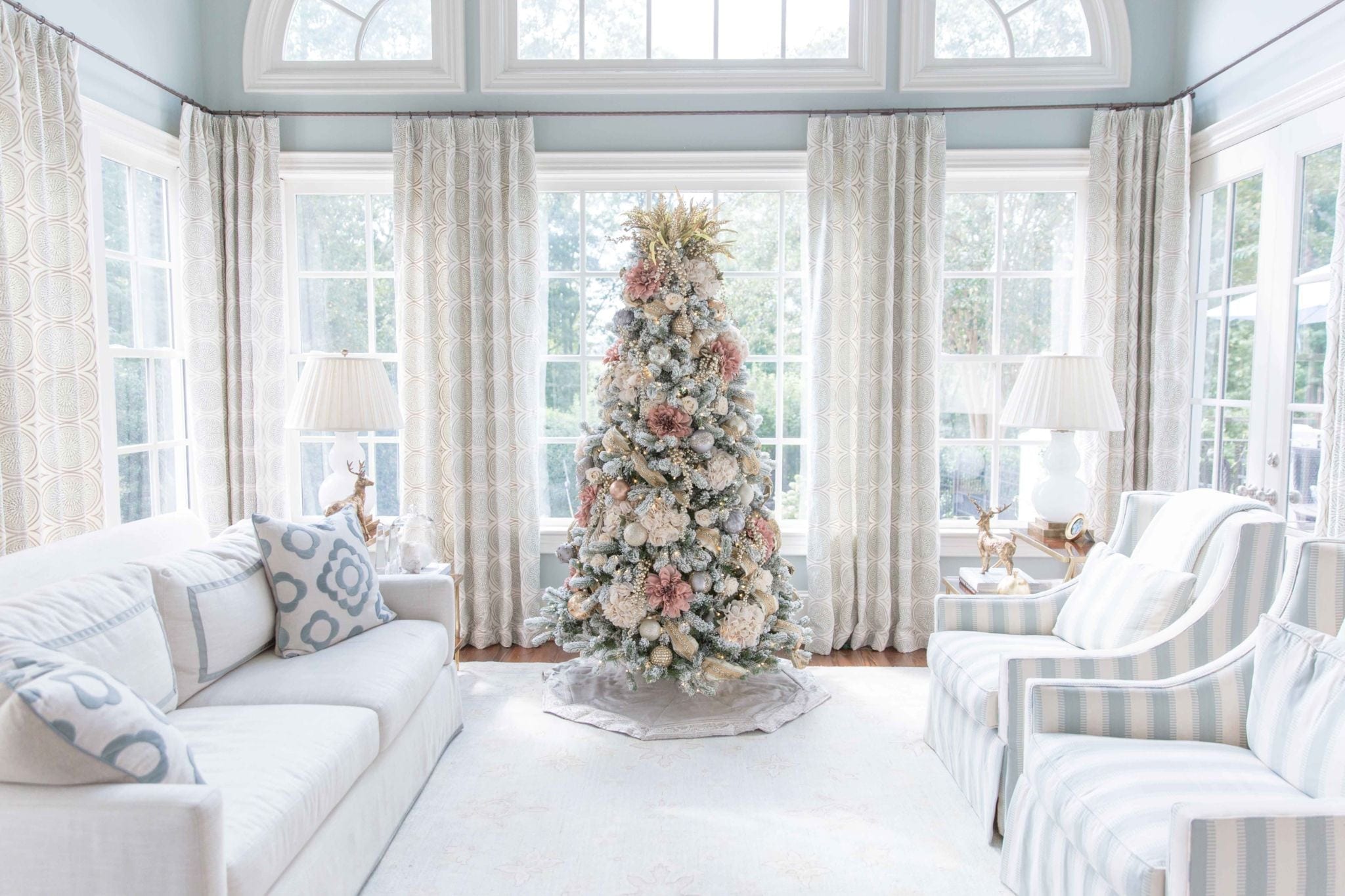 Here are a few looks you can re-create using these silk Christmas tree flowers. And the best part? You can use them year-round, or even just use them during Thanksgiving and then instead of having to clean up, just yank them out of the arrangement and begin decorating for the holidays! Silk flowers make things so easy. I store them in Tupperware in my attic and they last beautifully.
The key to using silk Christmas tree flowers is to use at least three varieties and in various sizes. In both trees shown, at least one large bloom is used, a second smaller flower in the same (or an accent) color and either a third metallic mix that uses either greenery, berries or tree picks. By mixing the sizes and colors you get a more finished and polished look.
I BUY ALMOST ALL MY SILK FLOWERS FROM AFLORAL.COM. I find they have the best selection and great quality. Look for Real-Touch when you can for the prettiest silk blooms going!
My FLOCKED CHRISTMAS TREE is the 7.5′ Prince King Flock sold at King of Christmas.
4 Looks With Christmas Tree Flowers
Create the Pink Look

Create the Gold Look

Create the Red Look

Create the Blue Look

Flocked Christmas Tree In All Photos